The Sunset Difference: Breast Augmentation
View Before & AfterPhoto Gallery
*Patient results may vary.
One of the most popular procedures at Sunset Cosmetic Surgery is breast augmentation with implants. Breast implants come in a variety of shapes and sizes, giving each woman a huge range of customizable options, whether she wants a modest increase or a significant change. Dr. Steve Svehlak and Dr. Dan Yamini work directly with their patients to help them determine what will deliver the best, most natural-looking results.
Both surgeons at Sunset are double board certified in both general and plastic surgery. Board certification is a long and thorough process, wherein their cases, ethics, and skills are reviewed by their peers. Further, both Dr. Svehlak and Dr. Yamini have completed the highest level of aesthetic training possible, followed by years of experience in breast work, which gives them the edge over inexperienced surgeons. With their in-depth knowledge of breast augmentation, they can achieve well-hidden incisions, natural-looking implant placement, and custom implant sizes and types for each patient based on her goals, body type and lifestyle.
Arrange a visit with the doctors at Sunset Cosmetic Surgery to talk about breast augmentation in the Los Angeles, Beverly Hills, and Hollywood areas today. or call 310-858-9100 .
Breast Augmentation Explained
There are many variables that factor into a breast augmentation surgery, including the size and type of breast implants used, the incision location, and the implant placement.
In general, all breast augmentation surgeries with implants work the same: A surgeon makes an opening for the insertion of an implant, creates a pocket where it will sit, inserts the implant, and then closes the opening.
Types of Breast Implants
While surgeons may treat breast augmentation as a "one size fits all" deal, it is most certainly not. Even though silicone gel implants are more popular than saline implants and smooth, round implants are more popular than textured, teardrop-shaped implants, every woman's body is different, as is everyone's idea of what looks "too big" or "too small." We schedule up to an hour for our consultations because when it comes to plastic surgery, it pays to get it right the first time. Our surgeons take their time with each patient and listen to exactly what the patient wants. The doctor also reviews photos with each patient and performs an exam to make sure the type and size of the breast implants are exactly what the patient has in mind.
Saline Implants for Breast Augmentation
Saline is a solution frequently used to fill breast implants. To use a saline implant, your doctor will first insert either a round or teardrop-shaped silicone shell into a pre-made pocket within the tissue, then fill it to the desired size. This method allows for smaller incisions, since the opening does not need to accommodate a full-size implant.
Many women find that breast augmentation with saline implants creates breasts that are firmer to the touch.
Since it is basically just salt water, saline is sterile and safe in the event of a rupture, which would likely be visually noticeable. In such a case, the deflated shell can be removed, and a new implant inserted in its place to maintain the results of the initial breast augmentation.
Silicone Implants for Breast Augmentation
Advances in breast augmentation technology led to the creation of silicone implants, which come pre-filled with a fat-like gel. Like saline, silicone can be used in either round or teardrop-shaped implants, which may feel softer and more natural than shells filled with salt water.
Since silicone breast implants are inserted as-is, the incisions are necessarily larger. Also, in the event of a rupture, a leak may not be noticeable, so periodic check-ups are necessary for any woman who chooses this type for breast augmentation.
Form Stable Silicone Implants for Breast Augmentation
Known as "gummy bear implants," shells filled with form stable gel are an even more advanced development in the breast augmentation field. These implants have a very natural feel, but in the case of a rupture, the gel is so cohesive, it will stay in the shell without leaking.
Cohesive gel breast implants are available only in teardrop form.
Implant Shapes
As noted above, breast augmentation is typically accomplished with implants that come in one of two shapes: round or teardrop.
Round Implants
The circular shape of these implants means they fill out both the upper and lower sections of the breast, creating a very full look overall. If a round implant happens to rotate within its pocket after breast augmentation surgery, there will likely be no noticeable difference.
Teardrop-Shaped Implants
Teardrop-shaped breast implants are also known as anatomical implants for the way they mimic the natural slope of the breast. Since these taper from a thinner top to a thicker base, they create fullness that favors the lower portion of the breast. Unlike round implants, cases of rotation can be visually obvious.
Implant Textures
As with shapes, breast implants come in two different styles: smooth and textured.
Smooth Breast Implants
A smooth silicone shell is more likely to rotate after being implanted, but some breast augmentation patients prefer an implant to have a greater allowance for motion within its pocket, citing the look as more natural.
Textured Breast Implants
A textured silicone shell gives scar tissue a greater opportunity to form in the pocket, which better holds the implant in place and guards against the possibility of rotation.
Implant Size
The Sunset Cosmetic Surgery team will help each breast augmentation patient decide the ideal size for her body shape and proportions. A woman is obviously free to choose whichever size she desires, but for most, the goal is to add volume for natural-looking results.
We provide before-and-after photos that show the results of breast augmentation surgery at Sunset, with real patients who made the same choices you are making. While no exact outcomes can be duplicated, the images can give you a visual reference that reveals what the size and shape you are considering for your implants could do for you.
Breast Augmentation Techniques
Incisions
At Sunset, we use high-quality Mentor and Naturelle brands implants in all available styles to customize the desired size and profile for each breast augmentation patient. These implants have been vigorously tested and are safe and FDA-approved. Incision location is also something that is customized for each patient. Our goal is always to achieve the least-noticeable scar, wherever you and the doctor decide will be best for you.
Periareolar Incision: The most popular choice at Sunset, this hides any resulting lines in the area where skin coloration changes from dark to light in the areola. Our breast augmentation surgeons are well experienced in blending the incision into the tissue surrounding the areola, and this type of incision works well for both saline and silicone implants. Read more and view photos of periareolar incisions.
Transaxillary Incision: This incision is made by your plastic surgeon in your armpit, away from the breast area and is used for saline implants only.
Inframammary Incision: An incision on the underside of the breast, near the breast crease, this was how breast implants were placed when they were first being used and is not used often by our practice.
View our related blog post, "Breast Augmentation: There Have Never Been More Choices."
Implant Placement
The pockets created to hold breast implants may be made either over or under the pectoral muscles.
Submuscular Placement: Breast implants that sit beneath the muscle may be necessary to create a more natural look for patients who have a smaller amount of breast tissue. This placement also encourages a sloping shape and puts pressure onto the implant below, which may be preferred for firmer saline implants.
Subglandular Placement: Also known as submammary placement, this situates the breast implants directly under the glandular breast tissue, but above the muscle. Breast augmentation patients with a significant amount of existing tissue may find the placement ideal, and it keeps the pectoral muscle from pressing down on the implants.
Your doctor will make a placement recommendation based on several elements, including the amount of breast tissue you have to cover an implant and the type and size of breast implants being used.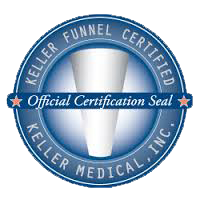 For accurate and gentle placement, Dr.Yamini often uses the Keller Funnel for silicone implants. The device is much like a pastry bag that allows the implant to be inserted without contacting the skin or breast tissue, minimizing the possibility for implant contamination, potential infection or other risks such as capsular contracture. The Keller Funnel is easy to use, can improve healing and comfort for patients, and is beneficial in helping to reduce incision size and trauma to the implant or the incision itself.
Typical Breast Augmentation Recovery Time
Following breast augmentation surgery, most patients are able to return to work within a week or so, provided that it doesn't require heavy lifting or major physical activity. Most patients who come to our practice in Los Angeles for breast augmentation can resume most of their routine activities, including mild exercise, within a few weeks.
Breast Augmentation Cost in Los Angeles
Sunset Cosmetic Surgery serves women from Hollywood, Los Angeles, and Beverly Hills seeking breast implants. Cost depends on a variety of factors that take the entire scope of the surgery into account. Since numbers vary from patient to patient, breast augmentation cost is best discussed in person with the doctor during a personalized consultation.
Procedures Beyond Breast Augmentation with Implants
Implants are not the only option when it comes to augmenting breasts. Fat transfer, which makes use of a patient's own fat, is another technique offered at Sunset Cosmetic Surgery. Patients who are less than satisfied with their augmentation previously performed elsewhere may want breast implant revision, or even removal.
Breast augmentation adds volume to breasts, but it does not raise them higher on the chest or change the position of downward-pointing nipples. For perkier breasts with more projection, women can opt for a breast lift.
In the opposite direction, breast reduction can make breasts smaller for women looking to reduce the physical discomfort or look associated with overly large breasts.
There is no wrong way to approach your breasts, from augmentation to a lift to reduction. Dr. Steve Svehlak and Dr. Dan Yamini will work with you to help you decide what procedure will change your silhouette the way you want it changed via safe, effective surgery.
Call Sunset Cosmetic Surgery today at 310-858-9100 to find out more about breast augmentation in the Los Angeles, Beverly Hills, and Hollywood area, or .