Education, Awards, & Affiliations
Dr. Daniel Yamini is an award-winning plastic surgeon in Los Angeles who has performed more than 5,000 cosmetic procedures and specializes in precision enhancements of the face, breasts, and body. The co-founder of Sunset Cosmetic Surgery, Dr. Yamini is double board certified in both plastic and general surgery.
To learn even more about Dr. Yamini, please visit our videos page, or call us at (310) 858-9100 to set up a consultation.
Awards, Honors, & Press
Dr. Yamini received a RealSelf Top Doctor designation in 2015. This status is awarded to a select group of doctors who are transparent about their level of service through unbiased reviews or ratings and also demonstrate an ongoing commitment to patient questions.
Dr. Yamini was recognized in 2014 as a Vitals Top 10 Doctors. Of 870,000 physicians nationwide, Dr. Yamini was among the top 1% who received this honor from his patients.
One of Dr. Yamini's liposuction cases was featured in NewBeauty magazine's fall/winter 2013 issue in the article "Get Toned, Sexy Legs." Click to view the article (PDF).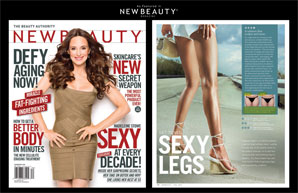 Dr. Yamini was selected for the second year in a row for inclusion in the Southern California Super Doctors list (2012 and 2013), which is published yearly as a special section in Los Angeles magazine. Doctors are nominated by their peers and then evaluated further by the research staff at Key Professional Media using a rigorous multi-step process to identify physicians who have attained a high degree of peer recognition and professional achievement. The Super Doctors list includes only about 5% of the physicians within each state or region.
Dr. Yamini was recognized in 2012 on vitals.com with the Patients' Choice 5th Anniversary Award, a recognition granted only to those doctors whose ratings have reflected excellence in care for five years in a row. Only 1% of all doctors in the United States are bestowed this honor by their patients.
Dr. Yamini was designated as a Top 10 Doctors on vitals.com in 2012 as well. Top 10 Doctors are chosen by the millions of patients who visit vitals.com each year to find physicians within a certain specialty and geographic area who are consistently given top ratings by their patients.
Dr. Yamini was quoted in the fall 2011 issue of New Beauty Magazine. Click each article below to view larger PDF versions.
Dr. Yamini was recognized with a 2011 Los Angeles Top Doctors & Dentists Award for his achievements in the medical field.
Dr. Yamini appeared in Newsweek Magazine's 2011 Top Physicians Showcase.
Dr. Yamini was voted one of America's Most Compassionate Doctors three years in a row (2010-2012), a recognition less than 3 percent of all active physicians nationwide received, as voted by patients on vitals.com
Dr. Yamini has been recognized with five Patients' Choice Awards (2008 – 2012). This award is voted on by patients who rate various components of more than 40,000 physicians, including bedside manner, doctor-patient face time, degree of follow-up, courtesy of office staff, and overall opinions. Only a select few receive uniformly positive reviews, and of those, only the physicians with near-perfect scores have been voted by their patients for this honor. This is voted on by patients on Vitals.com and tabulated by MDx Medical, Inc.
Dr. Yamini has been listed among the Consumers' Research Council of America's Guide to America's Top Plastic Surgeons multiple times.
Sunset Cosmetic Surgery has been recognized among the TOP 1% of BOTOX® providers in the nation. Further, Dr. Yamini is one of a select group of surgeons nationwide who is invited regularly by Allergan to give lectures as an educator for BOTOX® and JUVÉDERM® in Los Angeles. Source: Allergan, Inc.
Dr. Yamini has appeared on The KTLA Morning Show, Entertainment Tonight, and Dr. 90210, and has been quoted in the Los Angeles Times, Elle, Stuff, Health & Fitness Sports, and The Aesthetic Surgery Journal. For more information about past articles and press, please visit our Articles page.
Board Certification & Licensure
Board Certified in Plastic Surgery by the American Board of Plastic Surgery (website)
Board Certified in General Surgery by the American Board of Surgery (website)
Licensed by the California Board of Medicine (website)
Professional Affiliations
American Society for Aesthetic Plastic Surgery (website)
American Society of Plastic Surgeons (website)
California Society of Plastic Surgeons (website)
Los Angeles Society of Plastic Surgeons
Fellow of the American College of Surgeons (website)
"F.A.C.S." stands for Fellow, American College of Surgeons. It means that Dr. Yamini's education and training, professional qualifications, surgical competence, and ethical conduct have passed a rigorous evaluation, and have been found to be consistent with the high standards established and demanded by the American College of Surgeons.
Fellow of the American Academy of Cosmetic Surgery (AACS) (website)
Advisory Board Member
Dr. Yamini is part of very select group of two dozen plastic surgeons nationwide who serve on the advisory board of the largest breast implant manufacturers. As a board member, he is closely involved with the latest developments in technologies and products used for cosmetic enhancement.
Hospital Privileges
Olympia Medical Center (website)
Education & Training
Fellowship in Advanced Cosmetic Surgery
[2002] Subspecialty plastics training in facial, breast, and body cosmetic surgery
Beverly Hills, CA
Residency in Plastic and Reconstructive Surgery 
[2000 – 2002] Providence Hospital and Medical Centers & The Institute for Craniofacial and Reconstructive Plastic Surgery,
Detroit, Michigan
General Surgery Residency
[1994 – 2000] University of California Los Angeles (UCLA), Harbor General Hospital, Torrance California
Medical School
[1990 – 1994] Medical College of Wisconsin, Milwaukee, Wisconsin
Degree: Doctor of Medicine
Undergraduate Education
[1986 – 1990] Stanford University
Degree: Bachelor of Science (BS) in Biology
Degree: Bachelor of Art (BA) in Psychology
Educational Honors
First Prize: Resident Research Award, Providence Hospital Research Symposium. (April 2002)
First Prize: Resident Research Award at the American College of Surgeons, Southern California Conference. (Jan 1998)
Winner of the Society of Academic Surgery Student Research Award. (June 1994)
Speaking Engagements
As a plastic surgeon in Los Angeles, Dr. Yamini is often invited to speak about his work in the areas of injectables and surgical techniques.
"Perioral Dermabrasion" lecture at "The Perioral Plastic Surgery Symposium," San Diego, CA, Oct. 2003
Drs. Svehlak and Yamini taught courses at the annual American Society of Aesthetic Plastic Surgery meeting (May 2003), including presentations on minimally invasive techniques for breast augmentation, liposuction, facelift, and rhinoplasty.
American Society For Aesthetic Plastic Surgery International Symposium
Dr. Yamini was invited to present scientific and clinical experience with cosmetic surgery at the most prestigious annual international cosmetic meeting. In New York (2001), he presented exciting results in a technique of removing very large segments of fat along with liposuction. In Las Vegas (2002), Dr. Yamini presented research experience on a very interesting new injection product that is just as safe as collagen, but is permanent (this product is currently in use in Europe but has not been approved yet in the United States).
OHEP Research Symposium Competition of Michigan,
Detroit, Michigan, April 18, 2002
13th Annual Meeting of the North American Skull Base Society.
San Diego, California, February 16-19, 2002
Ninth International Congress on Cleft Palate and Craniofacial Anomalies. Göteborg, Sweden, June 25-29, 2001
American Society for Aesthetic Plastic Surgery, Annual Aesthetic Conference.
New York, New York, May 3-8, 2001
The Midwestern Association of Plastic Surgeons Annual Meeting.
Chicago, Illinois, April 19-20, 2001
American College of Surgeons, Clinical Congress.
Palm Springs, California, Jan 17-19, 1998
Scientific Publications
Journal Articles
Jackson I, El-Musa K, Gonzalez A, Yamini D. Tissue expansion to reposition the displaced frontal hairline in craniofacial deformity. European Journal of Plastic Surgery. 2002 Oct;25 (4).
Oliak D, Yamini D, Udani V, et. al Initial nonoperative management for periappendiceal abscess. Dis Colon Rectum. 2001 Jul;44(7):936-41.
Farooq M, Kling K, Yamini D, et al. Penetrating ulceration of the infrarenal aorta: case reports of an embolic and asymptomatic lesion. Annals of Vascular Surgery. 2001 Mar;15(2):255-259.
Oliak D, Yamini D, Udani V, et. al. Can perforated appendicitis be diagnosed preoperatively based on admission factors? Journal of Gastrointestinal Surgery. 2000 Sep-Oct;4(5):470-4.
Stuntz M, Yamini D, Moss J, et al. Bilateral orbital metastases as the presenting finding in a male patient with breast cancer: a case report and review of the literature. The Breast Journal. 2000 May;6(3):204-208.
Oliak D, Yamini D, Udani V, et al. Nonoperative management of perforated appendicitis without periappendiceal mass. American Journal of Surgery. 2000 Mar;179(3):177-181.
Yamini D, Vargas H, Bongard F, et al. Perforated appendicitis: is it truly a surgical urgency? American Surgeon. 1998 Oct;64(10):970-5.
Textbook Chapter
Yamini D, Khalkhali I, "Breast Scintigraphy." In: A. Bonifacino, M Halliwell, A Buzdar (eds.) Carcinoma della Mammella (Italian: "Breast Cancer"). Poletto Editore, 1999.
Scientific Abstracts
Nasal augmentation With Surgical-Wrapped Diced Cartilage: A Review of 67 Consecutive Cases. Ian T Jackson, MD, FACS, Mohammed M Elahi, MD, Dan Yamini, MD, Andrea Moreira-Gonzalez, MD. (ASAPS, April 2002)
Nonoperative Management of Perforated Appendicitis. David Oliak, Roger Lewis, Dan Yamini, Vikram Udani, Hernan Vargas, Michael Stamos. (Presented at the American College of Surgeons, Clinical Congress. October 1999)
Epidermal Growth Factor Immunostaining as a Prognostic Indicator for Colon Cancer. Sasa Periskic, Sven Seiwert, Dan Yamini, Antonio Guglietta, Michael Stamos. (Presented at the American Gastrointestinal Association meeting. May 1998)
---
Save
Save