Letters from Dr. Yamini's Patients
Hi Dr. Yamini, I wanted to thank you for your expertise in injecting the two Juvéderm® syringes. Not only did you manage to do it without bruising, swelling, redness, and only minimal discomfort, but you also created a very natural look! I am so pleased and also relieved, because filler injections, if not done skillfully, can easily distort a face. At the very least I had expected to come home with bruises and swelling, needing ice packs and makeup. But surprisingly, my face does not show any tell-tale signs. I am so grateful and will be back soon. I really appreciate your help and kind attitude,
M.T.*
When my girlfriends asked me how I picked my doctor, I say that there was no choice for me between Dr. Yamini and the other surgeons I consulted with. His ability to express himself with specificity and thoroughness struck me as superior to the competition.
I also got the sense that Dr. Yamini cared about me as a human being, and he is a great listener. I have a large circle of friends and have already recommended Dr. Yamini. It feels like my responsibility to brag about him and his staff! I believe he has an impeccable talent and work ethic. He gave me Giselle breasts. They are so, so pretty. (-:
S.W.*
Hi Dr. Yamini,
I had to send you a note to say hello. I just realized it's my 1st boob-aversary! Can't believe its been a year already. I am really happy with them and get compliments when I show them off. I hope you are doing well.
Take care,
Steph*
Dear Colleen, thank you and everyone in your office for such a wonderful experience. I felt safe and important to all of you. I feel fortunate to have found Dr. Yamini. His skill and calming manner meant so much to me. I had some challenges due to unnecessary procedures that were done elsewhere.
Dr. Yamini was able to correct the mistakes the other doctor made, which restored my self confidence. I now have a beautiful and natural result and I feel like me again. Thank you so much, Dr. Yamini
M*
(09/2010)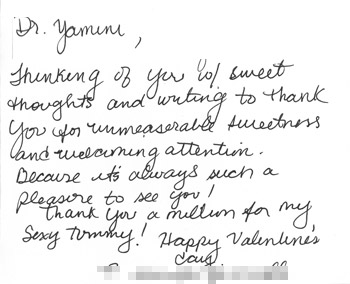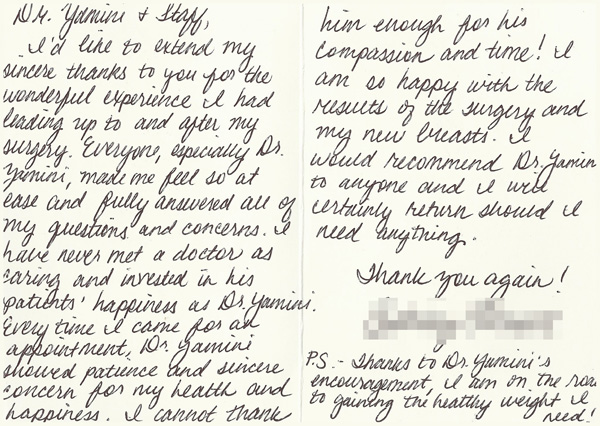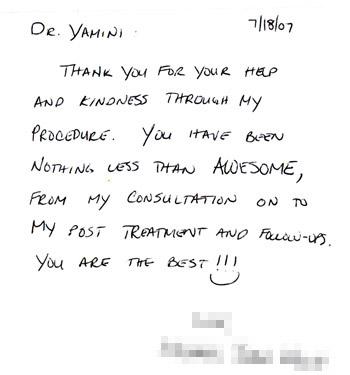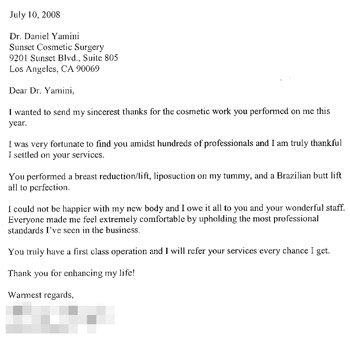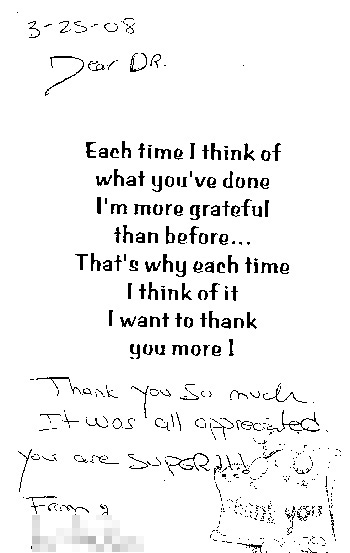 Dear Dr. Yamini,
I hope this email finds you in good health and in good spirits! It has now been three weeks since my surgery with you, and I am now back home and recovering well.
Dr. Yamini, I have been extremely pleased with my results. I wish I could convey this face to face, but you have exceeded all my expectations. Just within two weeks post-op, ALL the bruises on my body have disappeared. I think the swelling too has somewhat subsided, and more importantly I am getting more mobility. I never thought I could begin to see the results this soon. Not only are the parts of my body smaller, but it has been transformed into a "shapelier" body, and honestly Dr. Yamini I had never expected it. It was like getting a surprise bonus! You have sculpted my body … and it's been a while since I could see my waist. You are both a fantastic physician and a talented artist.
Dr. Yamini, I want to thank you, and everyone in your practice for taking such an excellent care of me, and I am extremely grateful that my "first" procedure was done under your expertise. You have made me very happy!!!
-10/2009*
Hi, Now I finally got a chance to sit down and send this email to you. I LOVE the result!!!!!
PLEASE PLEASE and PLEASE tell Dr. Yamini I totally think I was so lucky to find him, and I LOVE the shape, everything about it!!!! He did an awesome job, and I would highly recommend my friends if they need one!!!!!! PLEASE tell him that.
I keep bragging about Dr. Yamini's masterpiece, God he's good!!!!! I think he is the best!!!! I can't stand pictures from other doctors. His work is just simply the BEST!!!! I was bragging for two weeks, which totally annoyed my boyfriend (HAHA!!!).
I'm obsessed with them, because honestly the result is even better than what I expected regarding the shape. The shape is exactly what I want! Full and perky and sexy!!! Well, anyways, love you two sooooo much! If you can, please show Dr. Yamini this email, because I thank him probably 30 times a day in my heart and verbally talk about him about 10 times a day. Thanks once again X 10,000 times! Even only saw you two for two days when I was in LA, I will remember you two for the rest of my life. Because of this, it changed my life!
With lots lots of love,
P.W.*
———————-
Dr. Yamini,
I am writing this letter to let you know what an amazing and caring doctor you were for me during the whole process of my surgery. I was so nervous and scared, and the last thing I remember before I went to sleep was you next to me holding my hand to let me know I would be okay. You and the staff made me feel so comfortable. My body has completely transformed, and I thank you for that. You are an incredible doctor, and I know that all good things are coming your way. Thank you again for everything.
–Female Patient, 28 years old, Liposuction*
———————-
To: Sunset Cosmetic Surgery
After interviewing four of the top surgeons in Beverly Hills, I went to see Dr. Yamini for one additional consult. Of all the surgeons I saw, I was most impressed with him for the amount of time he took explaining things to me and for the time he took showing me his actual work and explaining what he needed to do. I also liked the fact that he was conservative in his approach, unlike the other doctors I've seen, and that he, personally, handled the entire consult rather than pushing me off to his assistant. His work was beautiful. After leaving there, I had a few more questions, and Dr. Yamini took the time to get on the phone with me and spent an additional 20 minutes answering my questions. I decided then and there that he was the surgeon for me. He really gets the whole massive weight loss/extra skin issues we face. He just completed my mastopexy and abdominoplasty, and I couldn't be happier. My breasts are exactly what I wanted and expected and exactly how he described them to me. My tummy looks incredible. Dr. Yamini is a true artist and perfectionist. I could have gone to anyone in Beverly Hills, but I chose and will always choose him as the very best, most caring, talented, and gifted surgeon in the city!
-Female Patient, Tummy Tuck & Breast Lift*
———————-
Hi Dr. Yamini and office!
I wanted to say thank you so much for the care and attention you gave me before, during and after my recent breast augmentation surgery! I felt so comfortable with Dr. Yamini's philosophies and expertise on the procedure, and I appreciate all of the information you gave me to help me make my decision. I felt very informed and that we were on the same page when I scheduled my surgery.
I was so nervous the week leading up to the surgery and you all really "held my hand" through this whole thing. I had never had surgery before, so I was nervous, and everyone was so sweet to answer all of my questions, even when I called four times in one day 🙂 On the day of the surgery, I felt I was in very good hands and well cared for. I was less nervous walking into the office than I thought I would be.
I was surprised that I had hardly any pain the days after the procedure. I was expecting much worse. I actually went to a late lunch and bra shopping with my friends the very next day, and after a Thursday surgery was back to work on Monday.
I love my new look! It has been so much fun trying on clothing that was never quite as flattering before, and buying bikinis has been amazing. I cannot even put into words how much more confident I am in myself and my looks.
Thanks so much!!
-Female Patient, Breast Augmentation*
———————-
Dear Dr. Yamini, I would like you to know that you have been great. You have touched my daughter's life, and mine too, forever and we will never forget you. You were attentive to her needs anytime she needed you. Your hands work wonders and you are a true artist besides being a superior surgeon. Your bedside manners are impeccable and one can see that you are truly passionate about your work and your patients. I can not THANK YOU enough. God bless you and your loved ones and grant you all your wishes.
-Female patient (from parent)*
———————-
Dr. Yamini changed my life!!! Regardless of what I did, it seemed like I could never get rid of my thighs and stomach area. I tried working out, dieting, and many various kinds of diet pills, but nothing worked. There was a point in my life that I wouldn't even look in the mirror because I would get angry that the amount of time and effort that I had put into exercising and dieting was not giving me any results. I had given up on the whole idea of me being able to lose weight. That is until I met Dr. Yamini. My older cousin is the one who introduced me to Dr. Yamini. As I was driving with my cousin to Dr. Yamini's office for my consultation I was extremely frightened for I have always been a "BIG BABY." I asked myself, "How are you going to have liposuction when just six months ago you cried when you got a shot?" By the time I was ready to answer my own question we had already reached Dr.Yamini's office.
From the first moment that I met Dr. Yamini, I was comfortable with him, and knew that I was in good hands. He was extremely patient in letting me ask all of my questions, even those that I asked twice. He asked me what I was unhappy with and we went on from there. Once we figured out exactly what I was going to have done, right then and there I set a date: Dec. 19, 2003. I titled that day "The rebirth of the perfect body." After meeting with Dr. Yamini, I was no longer frightened of the procedure. In fact, I was excited. On December 19, 2003, my mother drove me to Dr. Yamini's office. I can't put into words how excited I was. While waiting to go in for my surgery, all of the staff at one point or another approached me just to say hello and to make sure I was OK. My surgery took approximately 2 and half hours. A couple of days after the surgery, I was walking around and able to continue my daily activities. My end result is what is amazing. Prior to the surgery, I was 11/12 dress size. It has been about three months after my surgery, and I am now a size 5/6. I am able to fit in a size 3/4, but I like wearing 5/6. This had been the experience of a lifetime. The compliments that I receive make me feel amazing. Thank you, Dr. Yamini, for you have no idea how much you have changed my life.
-Female 21, Liposuction*
———————-
Dear Dr.Yamini, Thank you so much for helping correct something that has bothered me for years (especially in light of the fact that I was about to get married and have a bunch of photos taken!). Many of my family and friends commented at my wedding that I looked the best they'd seen in years. (-: You are a terrific person, and I wish you continued success in life and in your practice. You make a difference! Take care
– Male, early 30s, neck sculpting/liposuction*
———————-
I just had surgery with Dr Yamini 10 weeks ago yesterday! I would HIGHLY recommend him. He is just such a sweet doctor! He genuinely cares to get to know you. Whenever I see him, he asks me about how my job is going and how my apartment search is going. I didn't even remember half of the things I had told him, but he DID remember! I was so worried prior to surgery, but Dr. Yamini was there to console me the entire time! I am very picky when it comes to how I look. VERY PICKY. My mom was dead-set against surgery and neither of us trust easily. I came for about five consultations over a six-month time span before I scheduled the surgery.
Dr Yamini has done thousands of liposuctions, and he treats you with the utmost care! If you are firm on having the surgery, I suggest that you go with Dr. Yamini because I did a lot of shopping around (and I mean A LOT) and I felt most comfortable with Dr. Yamini. The best part is that when you are having surgery, both Dr. Yamini and his partner Dr. Svehlak are in the operating room! So you are being taken care of by two of America's finest plastic surgeons! And I am not making that up. They actually have awards in their offices for both of them saying they made the list of TOP PLASTIC SURGEONS IN AMERICA! His credentials are amazing, and his staff is fantastic! Dolla and Melinda are GREAT and have amazing personalities! They totally treat you like family, but maintain their professionalism. Liposuction is quite a process, but I guarantee you phenomenal results! I still have a bit of swelling at 10 weeks. It isn't major, and others don't notice it, but I do. Dr. Yamini warned me about everything beforehand, and he is very realistic! He wants you to get the best results, but he won't sacrifice your safety! Dr. Yamini gives you the best surgery for your money, and that is a guarantee. I am sure you have had others already email you about him. He is great, and tell Dolla that Tina sent you her email address! She will definitely know who I am! 🙂
If you do go through with the liposuction, I suggest you follow through with the Endermologie as well. Pamela is a sweetheart! I was actually at their office yesterday, and whenever I see her I call her Mommy because she is just so caring and was there with me every step of the way! Dr. Yamini's office is more than a "Plastic Surgery Office." It is a family. You definitely won't regret giving them a try and at least going for a consultation. It will CHANGE your life.
-Female, Body Contouring*
(liposite.com post)
———————-
Dear Dr. Yamini and Staff,
I can't begin to express the words of appreciation for the outstanding service you provided. You made me feel comfortable, and I so much trust in this office. Dr. Yamini, I certainly wish there were more doctors like you. Thank you all.
– Female, Body Contouring*
———————-
Dear Dr. Yamini, I just want to say thank you so much for everything that you have done for me. Before I came to you, I was very nervous and didn't know what to expect. However, with your professionalism, experience, and delicate touch, you made everything worth it. Because of you, I feel better about myself, again. All the thanks to you.
– Rhinoplasty Patient*
I RECENTLY UNDERWENT BREAST AUGMENTATION SURGERY WITH DANIEL YAMINI, M.D. I HAD AN ARRAY OF BEVERLY HILLS COSMETIC SURGEONS FROM WHICH TO CHOOSE, BUT FELT MOST COMFORTABLE WITH DR. YAMINI. HE CAREFULLY LISTENED TO MY QUESTIONS AND CONCERNS, AND ALLAYED ALL OF MY FEARS. THE RESULTS FAR SURPASSED MY EXPECTATIONS. MY SILICONE BREASTS LOOK NATURAL, AND I CONSTANTLY RECEIVE COMPLIMENTS. A DOCTOR IS ONLY AS GOOD AS HIS STAFF, AND DR. YAMINI'S STAFF IS BOTH GRACIOUS AND VERY ACCOMMODATING. I HAVE ABSOLUTELY NO RESERVATIONS IN RECOMMENDING DR. YAMINI. HIS WORK IS EXQUISITE!
– Breast Augmentation Patient*
Dear Dr.Yamini,
I would like to express my profound gratitude to you for changing my life. Before my liposculpture, buying clothes was a nightmare, and I would always feel depressed when shopping for new outfits. Nothing ever fit properly. After my surgery however, even buying bathing suits has become a pure delight. You have not only transformed my body, but also my self-esteem and body image. To say that I'm happy is an understatement; I am ecstatic! I can't stop smiling. I didn't realize what a difference the right surgeon could make.
Moreover, your professionalism, sensitivity, and accessibility throughout the entire process were very much appreciated. Thank you for making a difference in my life. My experience with you as a surgeon and as a human being has been a pleasure. Thank you so much for all your kindness and generosity. I am so thankful for your caring heart and steady hand. I would also like to thank your entire staff, who treated me with the utmost professionalism and care while maintaining my personal privacy. Dr. Yamini, no words can express my appreciation.
Best wishes,
Sharon. Age 28*
Dear Dr. Yamini, Office Staff, and Surgery Staff, I will never forget the image of two incredible geniuses holding each one of my hands before surgery. Thank you SO much for that. Dr. Yamini, since I walked in that very first day, you made me feel nothing but comfortable. The staff, the other doctors, all you guys are simply wonderful, caring people. I just wanted you to know that you are appreciated and you guys are AWESOME!
– Female, 23, liposuction*
I always knew I had a receded chin and always hated it. I liked my looks, but it was always that one thing. I don't really have a chin, and it makes my face look puffy. Being a model, this was a major concern for me, and that's why I decided to look into a chin implant. Not having done any kind of cosmetic procedures before and it being on my face, I was extremely nervous. I interviewed five doctors, and I chose Dr. Yamini because he is personable, attentive to my concerns, and he would always give me a thorough answer every time I asked a question. Most importantly, though, he suggested something the others didn't: a buccal fat removal on my cheeks in combination with the chin implant. I didn't even know about buccal fat removal, but it sounded like exactly what I needed. It's funny, because I was going to ask if something can be done about my puffy cheeks at the same time, and the doctor suggesting this without me asking tells me he was seeing the same thing I was seeing, and it was important to me.
He took a good care of me and remained attentive through and after the surgery. I recovered well and fast; only a few days after the surgery, I knew I had a good result. I actually had a shoot eight days after the surgery. I probably saw the doctor about five times as follow up visits, and now three months later, I'm good to go. I'm very happy with everything he's done, from consultation to post surgery care, and his staff are great. One of my concerns was looking unnatural from the surgery. So far, nobody, including my friends and my parents, can guess I had any kind of procedures on my face, except to say that I lost weight. Well, I'm looking very natural, only better than what I was born with. I'm definitely photographing better, and I have a little more sophisticated look. I'm sure it will help me with my career, not to mention it also helps boost my confidence level.
I'm extremely happy with my result, and I would recommend Dr. Yamini to anybody who's considering a cosmetic procedure.
-Female, 20s, Chin/Buccal Fat Removal*
———————-
From Obesityhelp.com:
Dr. Yamini is one of the few surgeons I've met whose specialty is the circumferential body lift. He truly enjoys his work, and after consulting with him, I couldn't imagine trusting anyone else to perform my surgery. He and his gifted hands were the last step in making my massive weight loss complete. He has been extremely supportive and attentive to all of my concerns both pre and post-op. I am extremely happy with my results and thank Dr. Yamini for his dedication in resculpting my body.
-Female, Body Lift Patient*
———————-
"…Dr. Yamini put all my fears to rest with the first appointment. He turned out to have direct experience with body lift operations, and the before-and-after pictures he showed me indicated a great deal of skill in this area. He was also friendly, and I felt we understood each other well from the start. I could see he was clearly concerned about giving you the best possible results while ensuring my health and safety at the same time. I knew he was the surgeon for me right away, and I begin making preparations for the first of two body lift operations that day. … What a difference over the first operation. All of the excess skin was removed; my stomach's firm and tight and for the first time in my life, I have a real waist. Dr. Yamini also removed all of the scar the first operation left behind and re-positioned my belly button in the center of my stomach. The left and right sides of my waist are almost perfectly even, and my belly button is just plain beautiful. The new scar is much less noticeable and positioned low on my stomach where it's a snap to hide.
I am ecstatic about the results so far and looking forward to having the second operation to remove the excess skin from my thighs and arms. … No more hiding that skin behind loose and long clothing. I feel just like I did after I finished losing all that weight. Like I've opened new doors and am starting on a new and better life. … My most sincere thanks to Dr. Yamini for all his help and for sharing his skill with me. Best of luck also to all of you out there who have lost weight or are getting ready to. There really is a light at the end the tunnel, so even when it gets tough, stay focused and don't look away! Follow that light and set yourself free. I guarantee you'll be happier than you've ever dreamed you could be!"
-Male, Body Lift Patient*
———————-
To Dr. Yamini, Thank you for such an excellent job on my tummy tuck. Not only did you work wonders on my physical appearance, but you also elevated my self-esteem to a whole new level. When I first met you, you asked me what I wanted out of this surgery. At the time, all I was thinking about was the excess skin that was left over from my pregnancy of my twin boys. My only thought was how wonderful it would feel not having extra skin hanging around. But, I never imagined looking the way I do now after the surgery. You gave me a whole new outlook on life, both mentally and physically.
I want to thank you and your staff for making me feel like part of your family. I will never forget what you have done for me, and I will tell everyone that I know or come across how much you have helped me with my surgery. Also, I cannot tell you enough how comfortable the staff there made me feel.
-Female, Tummy Tuck Patient, 26 years old*
———————-
I wanted to drop a quick note just to say thanks and that Dr. Yamini is my personal hero. Aside from the boobs, which look really great, and the abdomen, which now looks like it did 15 years ago, what has really blown me away is the repair of the huge canyon in my forehead!
I have had this crater in my forehead for several years, and have had more than a few shots of BOTOX® to try and soften it … never with any luck. I had pretty much resigned myself to the fact that there just wasn't anything to be done about it, and then my hero made it DISAPPEAR. The thing is virtually gone! I just can't believe it.
Someone just walked into my office, and I made them look at my forehead …. so that made me think of you folks, and I decided to e-mail. I really am so very impressed with all of my work. Wish I had some place to run around naked!!!!!!!! Well … maybe not … but you get the idea!
I never actually told Dr. Yamini, but I consulted with five surgeons before I saw him (if I told him that I would have a big PROBLEM PATIENT flag on my head)! But the truth is that I saw two people in Las Vegas and three in Southern California. I just never felt quite right about any of them: A couple told me that they couldn't do anything with my abdomen because of the placement of some tattoos; a couple just seemed, I don't know, non-trustworthy, and I had made up my mind that Dr. Yamini was going to be my last consult, regardless of the outcome. He did such a wonderful job that I am happy to pass that along to anyone who is unsure.
-Sally, Tummy Tuck & Breast Augmentation*
———————-
WOWOWOW!!!!!!! Thanks for sending those pictures. I really did not remember my breasts being so small before. The difference is a LOT more than I thought. Seeing those makes me SO happy I did the procedure!
Thanks so so so much!
-Female Patient, Breast Augmentation*
———————-
Thank you so much for the pictures. Wow, what a difference! I can't thank you and your office staff for the wonderful first class treatment. I am so happy with my results! You are an amazing doctor! You understood exactly what I was aiming for and made my dreams come true. Thanks again, and I hope you all have a wonderful new year!
-Female Patient*
———————-
Dolla, I'm extremely happy with the results. You and Dr. Yamini were always so loving, patient, and understanding of all my issues, being away from family for the procedure and during every visit.
Thank you so much for everything; I feel great—an amazing feeling when you can stop hiding yourself behind saggy clothes, and my husband seems to be very happy too. 😉
-Female Patient, Mommy Makeover with Tummy Tuck, Liposculpting and Breast Lift with Implants*
———————-
Dr. Steve & Dr. Dan-
I am so grateful to you both for the beautiful work that you did on me. I am four weeks post now and feeling great; very little swelling and sensitivity left. I am waiting to get the "green light" to come back to work and hoping that it will be very soon.
In the mean time, I am enjoying showing my new and improved body to other women who are all very impressed with how incredible your work is and are also ready to do the same (I'll be handing out your cards for years to come).
Please call on me anytime should you need me for photos, "show & tell," etc. I am available to you both for any kind of support that I can offer.
Again, thank you, thank you, thank you!
With much love & gratitude,
Denise*
———————-
I was 40 and in bad shape, literally! My tummy was huge, and I was very uncomfortable. I exercised regularly and ate well-balanced meals through the day. I took very good care of my body, but giving birth to two nearly 10-pound babies took its toll. In 1993, at 15 weeks of pregnancy with my son, people would comment that I looked like I was ready to give birth any time … to twins!!! As the years moved forward, my shape worsened; no amount of exercise or diet changed how I looked. I was wearing size 13 pants and had to buy X-Large men's shirts just to fit them around my belly. I hated the way I looked and felt. Every time I ate, it made me nauseous, and exercising became a chore. Sit-ups were almost impossible because my loose skin got in the way.
I called all of the cosmetic surgeon referral lines, and they unanimously referred me to Dr. Daniel Yamini. After careful consideration, with the reluctance that comes with considering surgery, I made an appointment with Dr. Yamini for consultation. I was impressed from the beginning. Dr. Yamini's staff was warm and welcoming. They treated me as if I was one of their own. Dr. Yamini took his time in talking to me about abdominoplasty (tummy tuck) and what the surgery would entail. He left no stone unturned and covered all of my questions; never once did he seem rushed. I notified him that I was a full-time student who schooled year-round and would be on a week hiatus between terms the following week. He took this into consideration and had me booked for surgery within days. He was concerned that I be well enough to attend school when my next term started and that I not miss any school; I was maintaining a 4.0 grade average.
The day of my surgery, Dr. Yamini took the time to sit and talk to me for a while before marking my body. He made me feel comfortable and excited about the surgery. He even had the anesthesiologist talk to me in depth about how they would sedate me. I knew I was in good hands, and my husband felt very confident in Dr. Yamini.
When I woke up from my surgery, I was alert and feeling great. He had hooked me up to a pain pump that lasted 48 hours. What a wonderful concept! I felt the immediate relief of the surgery and was up and walking with assistance three hours after surgery. By the third day, I was able to get up and walk without assistance. As the days moved on, I felt better and better. I stopped taking my pain medications by the third day. Dr. Yamini came to visit me at the recovery retreat three times during my first week, but called every day to check in with the nurses regarding my progress. This made me feel very good.
Since my surgery, I have received numerous complements on how great I look. Needless to say, I feel like a million bucks! Dr. Yamini's staff is always happy to see me and still treat me like family. I am grateful to Dr. Yamini for his care and expert surgery skills. He told me that once someone becomes his patient, they are his patient for life, and I believe him. He has changed my life for the better; I am wearing women's shirts again and my pant size is now 7, and sometimes I even fit in a 6 … oh … and he gave me a really cute belly button, too!!!
Michael Jean Wolfe
Van Nuys, CA*
———————-
My name is Carol and I am a 53-year-old woman who has battled obesity almost all of my life. One day a very important person in my life asked me to make him "just one promise" as he put it. I suffered with lupus, high blood pressure, arthritis in both knees, back, and neck, hypothyroidism, and I was morbidly obese, weighing 317 pounds. My height was only 5'2". Not a pretty picture. I finally had [gastric bypass] surgery in October of 2006. The surgery went well. The second phase of my physical and mental transition was to find a cosmetic surgeon who would be able to remove all of the excess skin that I had; and believe me, there was so much. Although I had lost a tremendous amount of weight (approximately 175 lbs), I would stand in front of a full length mirror and still see an obese women looking back at me. So off I went again, on another hunt for the "right" cosmetic surgeon. I interviewed five surgeons: three close to home (Ventura County), one in Santa Barbara, and the last one in Beverly Hills. The last one was Dr. Daniel Yamini of Sunset Cosmetics Surgery, located in Beverly Hills, CA.
Dr. Yamini has a true understanding and empathy in regards to those of us who have suffered from obesity, and he understands the importance of one's body image. Dr. Yamini's ability, knowledge, and mastery in transitioning an individual's body image from fat and flabby to "beautiful" are a true gift. He is a surgeon who believes in the quality of his work rather than the quantity. He is very conservative and will tell you if he feels your expectations are not in your best interest. He is a member of what is referred to as the "Dream Team" of Cosmetic Surgeons, and he has indeed made my dreams come true.
My surgery took place just as planned. I had a full body lift. I experienced very little post-operative pain and no complications. I was back to work within two weeks. I went back to see Dr. Yamini in November to have a breast and arm lift. Again the surgery went as planned with no complications. The scarring is almost invisible, and I look and feel better than I could have ever imagined. Even my personal doctors who have cared for me throughout the years are amazed at the transition and the skill in which Dr. Yamini's surgical procedures have turned out. They all have stated he is indeed a gifted surgeon.
Dr. Yamini's caring nature toward his patients goes beyond a doctor/patient relationship. At any time during the pre or post operative timeframes, you can feel free to call Dr. Yamini, and he will personally call you back and graciously give you the time needed to answer your questions and/or concerns. He and his wonderful, professional staff are always there for you to ensure that you have and get everything you need to ensure your experience and recovery through the cosmetic transition is wonderful and satisfying, and that your final outcome is that of complete satisfaction.
In closing, I want to encourage all of you who may be thinking of having surgery to take that step and "Do It." Do it for yourself and those that you love. Do it for the opportunity to experience a beautiful, healthy future.
-Carol, 53 year old breast lift, full body lift, arm lift*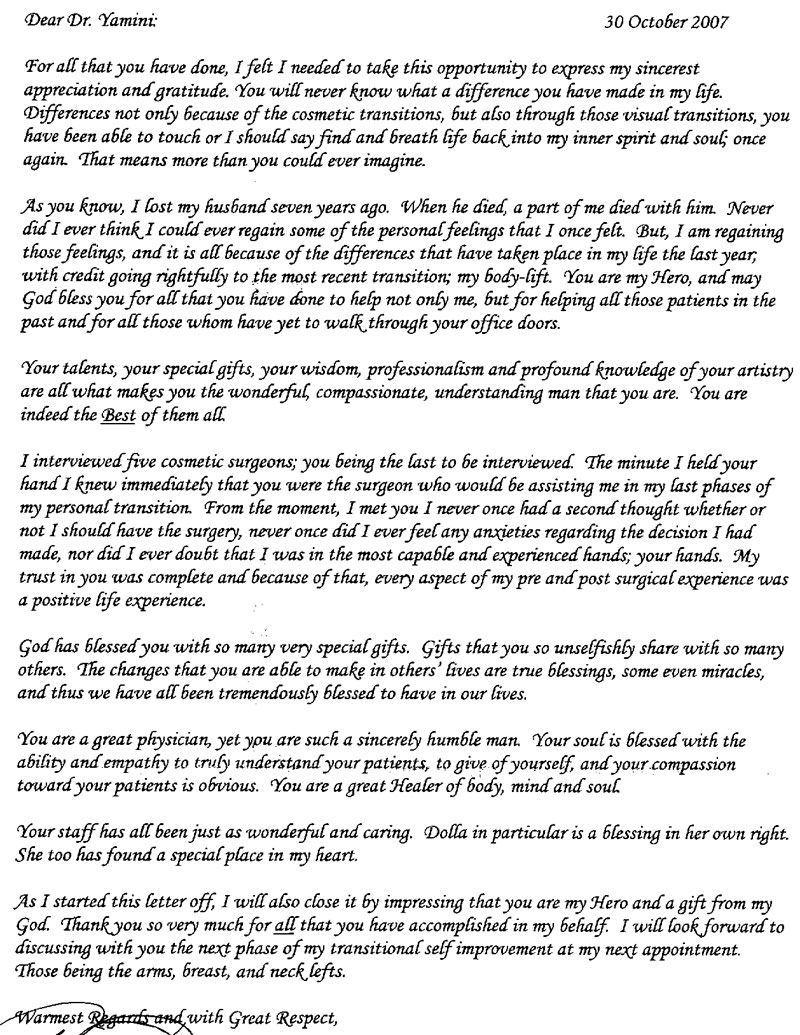 *Patient results may vary.
Save